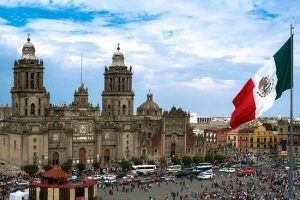 By the abundant grace of God, Youth Evangelical Fellowship International appointed a new leader in Mexico! Pastor Allen Gu's family will serve YEF Mexico.
Mexico was the most urgent city to be pioneered in Latin America. It has over 20 million youth between the ages of 15-24, ranking it at the 10th most popular in the world.
With the new appointment of YEF Mexico, God allows the perfect place to do mission. On February 2nd, YEF Mexico Mission center was dedicated to God and open the broad gate to evangelize lost souls. It is 5 minutes walking distance to the National University.
YEF International Representative Pastor Anderson Kim shared a grateful heart and his expectations for YEF Mexico, saying, "It is totally by the grace of God. We have been praying for Mexico since the very first day I became a representative. Co-working with Pastor Jhon, the representative of Latin America, finally God allows us to plant the best minister there. YEF should not lose Mexico, because there are so many lost young souls. Hope YEF brings the truth of God and direction of life to them. Amen."
Comments
comments