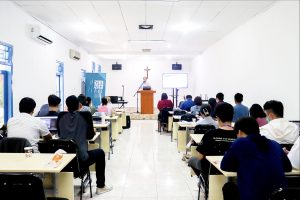 Youth Evangelical Fellowship of Southeast Asia (YEF SEA) members joined the Olivet Leadership Institute Southeast Asia Training held in Indonesia. Members and leaders from YEF Vietnam, Philippines, Malaysia, Singapore, Laos, and Indonesia participated and completed the course of the training and it was by the grace of God that all members in the region joined the training as this was their first meeting after the pandemic since 2019. During the OLI SEA training, the members were ignited with the fire of the Holy Spirit to run with the aim to make disciples of all nations. The members participated in workshops during the training such as: workshops on teaching with manual, personal study and prayer, evangelism, faith and family, finance and business-as-mission, and vision casting workshops.
Below are the reflections of the members during the OLI SEA training :
Intern Pastor Deborah (YEF Singapore Representative): "This year, I set one of my long-term prayer topics to be a Pastor. I expected it to be fulfilled perhaps 5 years later, but by God's grace, God fulfilled it earlier to which I give all glory and praise to the Lord for His timing. Recently when I reviewed YEF Singapore 2022 goals, I realized that one of the goals is to set up 1 Intern Pastor this year which God has also now fulfilled. I thank God deeply for His grace and mercy in blessing me and YEF Singapore to serve His Kingdom wholeheartedly. As I prayed to prepare my heart for the Pastoral Ordination, the Holy Spirit touched my heart deeply to know that this is a position where I am unqualified, but now able to stand qualified by His calling and grace. I reflected upon giving my whole life to God for the rest of my life and I felt very blessed to have this chance to serve God entirely. I truly thank God for His mercy. I have been unfaithful many times in my life and struggled very deeply in walking and following Christ, but in being ordained and called by God, from the bottom of my heart, I desire to die to myself but to live only for Christ.
Surely there will be times when I may still struggle and fall, but each time I pray that the Lord will sanctify me and use me by His Will to be an instrument for His glory. It is a great blessing for YEF Singapore as well and I truly pray that YEF Singapore can become a missionary-sending ministry where Singaporeans can be used by God in every way possible."
Brother Gabriel (YEF Philippine Member): "First I want to thank God because he allowed me to join this OLI Training and its very graceful to me to be having here many Good things I gained like what I need to change, what I need to Reform, and also to pray deeper to have deeper relationships with God maybe it cannot be unseen in my current self but I believed that only God can know my capabilities to use me on his Kingdom. Because this training wants us to receive grace to bless other people. The Bible says in Acts 2:21, 'And everyone who calls on the name of the Lord will be saved.'"

Brother Bei-bei (YEF Singapore Member from Myanmar): "OLI is very fruitful work have done on me, it taught me a lot of things. I have enjoyed and been blessed with this short training. Even though the place or the region are not familiar and many people come from different countries, cultures, and traditional environments, everyone was so kind and lovely. Through this, I could see the image of God.
I have realized who I am, reviewing my life and how heavy my sins are however, I have a Savior Jesus Christ through His grace and Love. And now I understand more deeply about my leaders! I didn't know how much and how long they have been crying and praying for me, including our members. Let me say thanks for bringing me here to join and to receive blessings in this community. Our pastors really love me, I didn't understand their love and guidance before, but now I have known more and more. How they might be challenging and praying for me a very long time, that is going to be a better/ more abundant life.
I remember a Myanmar artist once said that even with the stone if you hit it more and more, it is going to give way and crack. And humans hearts are not as hard and strong as stone. We must keep praying for those lost and understand that our God will knock on the people whose hearts we are evangelizing and sharing the Gospel.
I would like to share the thing that changed me to be more open hearted and see myself to be a true YEF member and leader for the youths of SEA (not only for my own country) and for everyone all over the world. We are ONE in Christ, youths of Christ for the Kingdom of God, let us go in the same direction. Our region may be a part of the lowest region, maybe the weakest place, the poorest countries, but if God uses it, it will able great things for His glory. The scripture says that God uses the weak people to shame the strong. I understand that I need to confess my sins, my weaknesses, and repent to God.
Let us open our eyes more widely and look at strength to the future like eagle. We have a big challenge in the future and at the same time a great opportunities in the future. Let us pray together, moving forward carrying His cross by Faith. He will be leading us through His grace, kindness, peace, mercy and love. May God bless you all. Amen."
Brother Hans (YEF Malaysia Volunteer Member): "I received alot of grace during Bible study and small group sharing session. Its also the first time to meet brothers and sisters from other southeast asia countries. I really felt huge blessing when all brothers and sisters prayed for me…"
Leader Phengsy (YEF Laos Representative): "Thanks be to God for the OLI training and it is very important for me and I feel that many things in me have to change. Through it I have a new vision and new plan that I must go on. I feel that God really loves me. I'm a Christian and I must walk according to His will.  Thanks be to God so much, I can feel that God is with all of us as we diligently work. I must train my faith to learn more about the Word of God for missions and prepare. I won't be in the same place. I believe that one day soon, I will preach the Word of God and be a true missionary. Yes, I thank God very much!"
Intern Pastor Isabel (YEF SEA representative): "During the time of our training, it is truly by God's grace that we are gathered upon His presence to be the youth of SEA that is equipped and ready to go as the Lord's disciples and to also make disciples of all nations.
As we look back to the history of YEF SEA, truly we started as small and in this special time of sending out more disciples accross the Lord to pioneer churches and fellowships, we came to realize that the Holy Spirit of God is on fire here on SEA as we look back and see that more peole have come to faith in Jesus Christ and ready to be sent as the vessel to proclaim of his good news. Therefore, we realize more that this is an urgent time for us not only for the youth but for all who believes that we aim for the goal to save at least one more soul and through finding these souls that God prepared truly, the heavens will celebrate and this is a joy for everyone and above all for the Lord.
Yes, we are weak and shabby but we need to receive this grace of God for receiving this, we can be truly compelled to follow and live the life of the Lord Jesus Chirst; living a life full of love and mercy from the Father. With this, we hope for all SEA leaders and members, to be ignited and not put out the fire of the Holy Spirit as they have received upon the OLI Training but be resilient by trusting God's providence and perseverance knowing that God is in control with a heart's desire to experience the love of the Lord and share the joy of salvation to the world."
Comments
comments