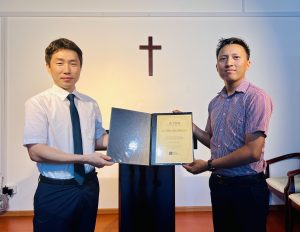 By God's faithful hand in leading the first Burmese committed member of Youth Evangelical Fellowship (YEF) Singapore, Missionary Bei Bei Van has given his heart to participate in the pioneering of 153 countries and he has received the new commission to pioneer Myanmar before the 30th World General Assembly (WGA).
YEF Singapore Leader Intern Pastor Deborah Foong shared her grace in witnessing the commissioning of Missionary Bei Bei on the night of SEA Missionary Training and in supporting the pioneering Myanmar mission,
"It is the work of Holy Spirit throughout these many months after Missionary Bei Bei committed himself to God's Kingdom, that Missionary Bei Bei has grown spiritually to now pioneer and lead Myanmar mission. Thank God for using YEF Singapore in this small way and may God continue to lead Missionary Bei Bei to be a great leader to be used for God's Kingdom!"
Praise God for the appointment of the Myanmar missionary! May God continue to use Missionary Bei Bei in the pioneering of Myanmar before the 30th WGA.
Comments
comments