Recently, the local campus mission in Florida gained more evangelizers since new staff and some Bible study students are joining. On 14th, along with the local church, Bethany Presbyterian Church, YEF members joined in evangelism on the campus of the University of Central Florida. Two new brothers, Alex and Asa, joined during this time of evangelism.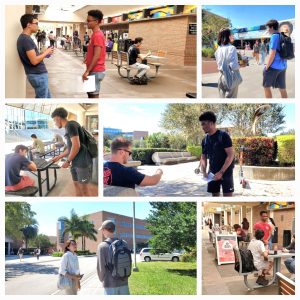 Even though it was the midterm exam period, students responded to the Gospel, willing to take their time for Bible study between classes. There were two lost sheep of Israel who were looking for a church, but haven't found one.
After the hopeful, gracious evangelism, they shared reflection as follows: "Students were very welcoming with an open heart. Amidst a busy time, they wanted to regain their faith through bible study. It was not easy to open my mouth and proclaim the message, however, evangelism freshly reminded me of Paul and Barnabas traveling the Gentile lands because of the love they received from God. During evangelism, I prayed that God could use me as a channel to share the love I received from Him."
Please pray for the brothers who are receiving mission training to grow more and to meet the Lord's love closely in the mission field.
Comments
comments