Youth Evangelical Fellowship Africa (YEF Africa) held a joint hybrid mini-retreat with the Emmanuel Church Nigeria.
The goal for this retreat was to have a total of fifteen attendants online and onsite combined. At this time, there was a total of eight Attendants, with five people attending in person and three attending online. During the retreat, the students learned about the Beatitudes from the Book of Matthew 5:12. The participants were encouraged to deeply examine themselves in light of these blessings and diagnose their spiritual health.
"The beatitudes are the characteristics we are supposed to have as Christians; it is not a guidebook or list of rules but a lifestyle in which we are to embody as Children of God." Minister Anu preached.
During this retreat, three Bible studies were held, and a lot of time was for sharing and reflection. The participants also had fellowship time, asking questions about the Word of God and breaking physical bread together. There was also a short prayer time, particularly for the students writing exams this month. In attendance at Emmanuel Church Lagos were Adeniyi, Ayanfe, and John. Pastor Abraham and Minister Anu were also in attendance. Although there were few people, each testified how enlightening and unique the retreat had been.
Before leaving, the students were challenged to not only rely on their Bible knowledge and truly live obeying Jesus' commandments. Ayanfe and John, who are University of Lagos (UNILAG) students, also agreed to attend Sunday Service the next day. YEF Africa was very grateful to God for this retreat time; even though it was exam time, these precious students came to join. May the Holy Spirit continue to work in their hearts daily, and may they be changed to become more like Christ in every way.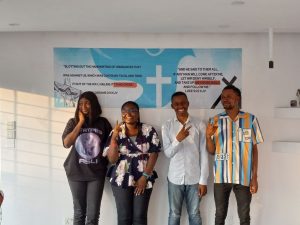 Comments
comments