On the 20th of January 2022, Youth Evangelical Fellowship Africa (YEF Africa) was able to receive their first Registered Member of the year. Coincidentally this is also their first registered member from Cameroon.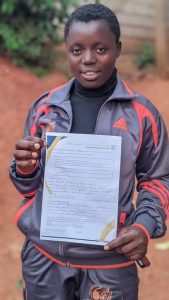 Bailak Ndah Blessing is a student living in Yaounde, Cameroon. She was evangelized online through Facebook ads and started Bible study with YEF Africa in the last quarter of 2022. Bailak has been studying the book of Romans despite network difficulties and has finished Romans 1-4. She is also someone who really loves the Lord and loves prayer.
YEF Africa hopes that they can connect her with the church in Cameroon though she lives a long distance away. They also pray that through her many more Cameroonians can be found. All glory to God for this precious member gained. Please continue to pray for Blessing and for Africa mission. May Blessing be raised as a powerful leader for the Kingdom of God.
Comments
comments