Beginning in December, the fellowship groups of Colombia met in order to carry out mass evangelism in the Usaquén park located in the north of Bogotá. People could see more than 200 people in that place worshiping and seeking the presence of God. YEF Colombia was among the fellowship workers worshipping God and calling others to come to Him. With this, YEF hopes to be able to reach more young people and thus be able to gradually extend the Kingdom of Heaven in each city, region, town, and village of Colombia. You can see the care with which they evangelize to achieve the goal.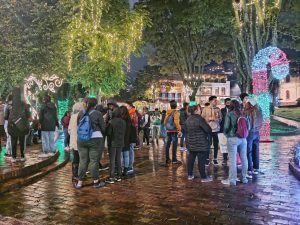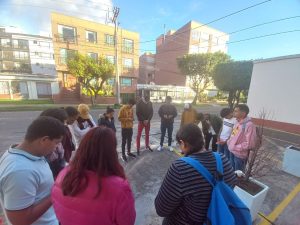 On the 14th, groups came together again to go out to evangelize around their location, which was selected to bring the message of salvation to the people and establish the Kingdom of God here on earth. The need to evangelize has been set in this place, since many young people come around because there are places for recreation. In this space, the fellowships were able to share the word of God with the young people, and extend the invitation to Bible studies.
Now, the missionaries of the YEF ministry M. Melissa Sarabia and M. Yesica Narváez, met to set goals for the coming year.
PLAN: With a direct and dynamic way of evangelizing by implementing mass evangelism where healthy cultures are revived and encouraged to bring worship and service to God. Through dance, singing, theater, cinema, and different forms of dynamic evangelism, they hope to bring service to God and attract many to Him. They also hope to meet people face to face, during the first module of Romans and the second of the 4 Spiritual Laws.
Comments
comments