As the new semester starts for students at the University of Central Florida, YEF Leaders and staff are looking to build deeper relationships with the students and show them the view of our members and fellowship. These days YEF NA has been focusing on the verse in Acts 2:42, "They devoted themselves to the apostles' teaching and to fellowship, to the breaking of bread and to prayer."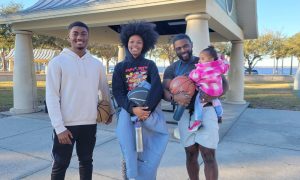 In order for one CM to be made, they must understand the heart of this church and build good relationships with members in order that many people can testify about them and they can continue to grow well in faith.
Brother Asa is continuing to show heart and desire to grow more on his path of faith. He really enjoyed this time and was able to connect well with YEF members and Florida staff. Brother Asa is currently a Junior studying Engineering at UCF. He is searching for God's way in his life and growing with the hopes of deepening his relationship with God. He was also able to attend Friday Prayer meeting and will attend Sunday Service this week as well. Please pray for him to be protected and continue to be guided by the Holy Spirit on his journey of faith.
Comments
comments