Brothers Asa, Matthew, and Elijah were able to meet with YEF Leaders Rani and Danielle to fellowship and get to know each other through a casual setting while also discussing further plans for mission. Brother Asa and Matthew have continued to attend bible studies throughout the week despite their busy schedules and felt moved to dedicate more of their time to establishing YEF more strongly on campus, and becoming volunteer members.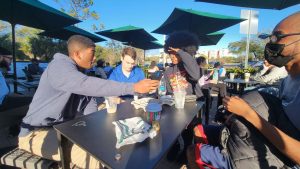 Brother Elijah is continuing to have bible study on the weekends in group bible studies. He is very busy during the week and not able to meet, but also hopes to help in any way he can. Please pray that he can make more time for bible study and the things of God.
During this time, they also discussed volunteering their time, helping out with the events done on campus and just overall participating in YEF things more. Brother Elijah really wants to use his gifts and talents to serve while brothers Matthew and Asa will work with social media and event planning for the local university, the University of Central Florida, and all of Orlando.
Please pray that through this the brothers can grow more spiritually and come to have the heart of Jesus in serving. May they continue to grow and run toward the kingdom of God.
Comments
comments