Youth Evangelical Fellowship (YEF) Indonesia, Intern Pastor Immanuel Pasaribu received much grace over the first two days of the Olivet Leadership Institute Southeast Asia Leadership Training that was held at the Olivet Center Southeast Asia (OC SEA).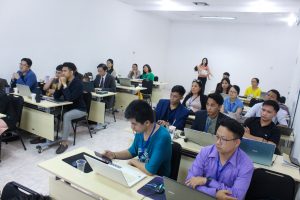 Intern Pastor Immanuel shared, "I am really grateful to be able to join the first OLI SEA in 2023. Through the entire series of sessions for these two days, I received much grace from God. His Word rebukes my heart, strengthens me, and set me free. Every lecture that is given urges and reminds me to continue to be connected to God, and to unite with Christ. Our ministry will be in vain if there is no God in it. If we are not connected to God, our lives will not be fruitful. During this training, His Word also reminds me that we can't change people, but we can change our perspective. People change not because of our wisdom, our power, or our money, but through God's Word, someone can change. Our focus as God's servants is only to share God's Word and let the Holy Spirit touch someone's heart through God's Word."
Thank God for the abundant and overflowing grace poured out in the first two days of OLI SEA training. May God continue to deeply touch and lead the YEF Indonesia representative to receive even greater grace to powerfully reveal the work of God through sharing the deep Word.
Comments
comments