The Youth Evangelical Fellowship (YEF) is excited to announce the opening of a new chapter in the Dominican Republic, under the leadership of Intern Leader Bro. (Joel) Yoelvin Maldonado Parra. Bro. Joel, who was introduced to YEF by South American Representative M. Melissa Sarabia, is currently studying Educational Psychology and spoke of his excitement about being a part of the ministry.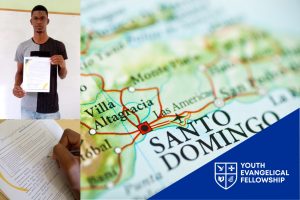 "I really feel happy knowing that I will work in YEF," he shares, "hoping to give the best of me and a little more, I know that the Lord will glorify Himself in a powerful way and the young people will come to the Lord and will be trained and will also belong to our mission."
Brother Joel who has been praying for the ministry for a long time and the Lord called him to serve here in this ministry. He is highly motivated to serve in the ministry and to bring the hope of Christ to his nation. He is eager to help the youth of the Dominican Republic to be trained and equipped with the knowledge and skills necessary to serve God and their communities. In addition, Bro. Joel is committed to building relationships in order to further the mission of YEF.
YEF in Latin America continues to grow, as the ministry has been presented in different countries and there are young people who have been joining the fellowship.
Comments
comments