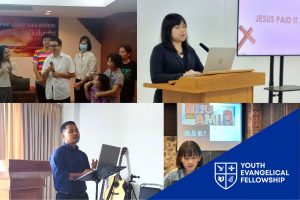 Beginning from April 7, 2023, Youth Evangelical Fellowship (YEF) Southeast Asia (SEA) chapter leaders have been actively participating in their local Easter Retreats held jointly with the local Olivet Assembly (OA) churches.
Through participating in the current Easter retreats, YEF SEA leaders have shared deeply their grace in preaching for the first time at a local retreat and each leader was filled with abundant grace through meditating deeply on the path of Cross and Resurrection.
With great hope for revival in their mission fields, YEF SEA leaders will continue to seek prayerfully for the guidance of the Holy Spirit in the retreats so that many prepared souls could be deeply transformed by the retreat by God's Word to commit their lives to God.
Comments
comments