YEF Vietnam has been using an approach of approaching students to evangelize and invite them to study the Bible. This is certainly an effective way of evangelizing, but YEF Vietnam is now looking for other avenues of reaching more students. To this end, the organization has kicked off a weekly retreat on Sundays. For these, YEF Vietnam team members bring a variety of activities ranging from group-based Bible studies, discussions and personal reflections. Through these activities, YEF Vietnam not only hopes to continue evangelizing in a meaningful way, but also to help build a strong community among their members.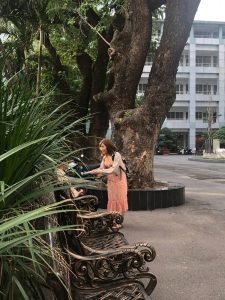 As YEF Vietnam members continue to evangelize in creative ways and build relationships, they are finding more students who are interested and curious about learning about the gospel. YEF Vietnam member, Nhung Lan, shares "Now that I have involved myself more in evangelism, I have experienced that evangelizing is the work of the Holy Spirit. Many times, we didn't do anything, just prayed, and God brought us the students. We can't rely on our abilities, just pray and do our part, and God will do the rest."
The goal of YEF Vietnam is to spread the gospel, but also to leave an impact on the communities that their members are evangelizing in. It is in this spirit that YEF Vietnam hopes to help equip students with knowledge and understanding about the gospel, and to have an evangelism journey that is both meaningful and enriching. Through engaging with the modern Vietnamese culture, YEF Vietnam continues to find ways to serve as an example and live out one's faith.
Comments
comments