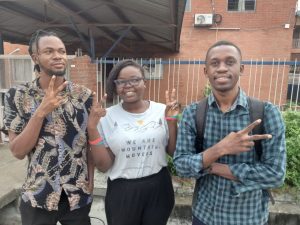 Despite facing numerous challenges, the Youth Evangelical Fellowship Africa (YEF Africa) experienced the grace of God as they successfully held their first day of in-person training on August 4th, 2023. The event brought together two Nigerian members, Adeniyi and John, who attended the training with a heart full of anticipation and eagerness.
The day commenced with a heartfelt prayer, setting the tone for the Bible discussion and study that followed. The focus of the study revolved around Romans 1-8 and the Four Spiritual Laws, delving deep into topics such as sin, salvation, and the Kingdom of God. Minister Anu, leading the session, actively engaged the attendees by asking thought-provoking questions, aiming to assess their comprehension and encourage them to reflect more deeply on their faith.
Following the Bible study, Minister Anu emphasized the critical need for true disciples of Christ, underlining the significance of training programs like the one they were participating in. She introduced the Joshua Project website, which sheds light on unreached people groups, and shared YEF's vision to inspire the attendees about the importance of becoming missionaries and contributing to Christian revival. Adeniyi and John were deeply moved by this revelation, realizing the urgent call for missionaries and the necessity for a spiritual awakening.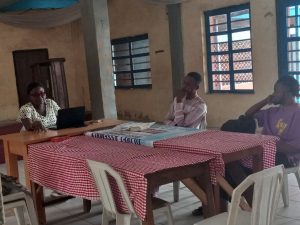 The first day of training concluded with a prayer meeting, allowing the attendees to reflect on the lessons learned during the Bible study. Gratitude filled the hearts of all present as they acknowledged the success of the day, attributing it to the grace of God. Prayers were fervently offered, seeking strength and guidance for the upcoming second day of training.
The YEF Africa's determination and unwavering faith, combined with the divine intervention they experienced, made the first day of the in-person training a resounding success. This event served as an opportunity for spiritual growth, reflection, and fostering a deepened commitment to the teachings of Christ.
As prayers continue for the subsequent days of training, the YEF Africa team remains steadfast in their mission to equip individuals like Adeniyi and John, empowering them to become devoted disciples and spread the message of God's love and salvation. Through their perseverance and reliance on God's grace, YEF Africa continues to inspire hope, ignite passion, and cultivate a generation dedicated to advancing the Kingdom of God.
Despite the challenges faced along the way, the efforts of YEF Africa are a testament to the power of faith, prayer, and the determination to carry out God's mission. It is through events like these that lives are transformed, hearts are touched, and the seeds of revival are sown, leaving a lasting impact on individuals and communities alike.
Comments
comments