YEF HQ held a mission meeting with Anoosh, a Pakistani volunteer. This meeting was to set up the foundation of establishing a chapter in Pakistan, which is one of the strategic nations to penetrate the Islamic states in Asia.
Brother Anoosh was evangelized in 2020 by YEF Korea, and since then he has been a long-time friend and supporter of YEF mission. He also has rich experience in mission as he served in the Presbyterian Church of Pakistan and Pakistan Christian Publication for a long period of time.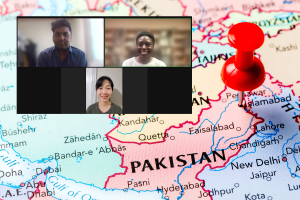 Brother Anoosh was very eager to help establish a chapter in Pakistan. He expressed that Pakistan is currently a hotbed for university-aged missions as youth make up 70% of the population. As an ordained pastor who has run church ministry both in Korea and Pakistan, Brother Anoosh has many contacts and believes that the youth of Pakistan lose their passion because of a lack of guidance, direction, and deep application of the Word in their lives. While the prayer for his country and people, he believed that YEF could provide the spiritual needs of Pakistani people.
Through the meeting, he also shared the persecution happening in Pakistan as Islamic mobs attacked and caught fire to churches, which spread to people's homes. So many Christians have lost their place of worship and their homes and so many feel they must run away and the youth lose hope.
YEF hopes to serve as a beacon of light in the darkness of the times. Please pray that this relationship would be utilized well for the increase of God's Kingdom and the peace of many Pakistani youths.
Comments
comments