October 30th 2023 – Youth Evangelical Fellowship International recently showcased their vision and plans at the 31st World General Assembly. With a compelling video presentation, their aims were twofold: to provide guidance and direction to members and leaders within the organization and to inform the delegates about YEF's mission to support local churches through education and other means to aid in the 1K Cities initiative. Grounded in the powerful scriptures of 2 Corinthians 4:5 and Proverbs 16:3, YEF International is committed to wholeheartedly dedicating all their plans to the Lord, with the ultimate goal of proclaiming Christ crucified and resurrected to the world.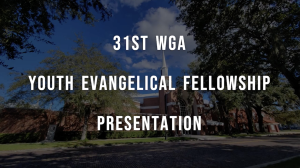 By leveraging the platform of the World General Assembly, YEF International seized the opportunity to reach a wide audience and share their vision for empowering young Christians around the globe.
The first goal of the presentation was to provide vital information and direction to YEF members and leaders. As an international organization, effective communication and clear direction are essential in mobilizing individuals toward a common objective. Through the video, YEF International succinctly communicated the strategies and plans that members and leaders can align themselves with. By equipping them with this knowledge, YEF aims to strengthen and empower their worldwide network, fostering unity and collaboration in their shared mission to spread the Gospel.
Additionally, the video presentation sought to inform the delegates about YEF's commitment to supporting local churches through education. Drawing inspiration from 2 Corinthians 4:5, which highlights a humble and servant-hearted approach to ministry, YEF International emphasized their dedication to serving and partnering with local churches. By equipping the youth and investing in their education, YEF aims to empower the next generation with a solid foundation of biblical knowledge, leadership skills, and a heart for sharing the message of Christ. Through this approach, YEF strives to create a lasting impact on the growth and development of churches worldwide.
Grounded in Proverbs 16:3, which calls upon individuals to commit their plans to the Lord, YEF International showcased their unwavering reliance on God's guidance. Understanding the magnitude of their mission, YEF recognizes the necessity of seeking divine wisdom and direction as they move forward. By surrendering their plans to the Lord, YEF International aims to cultivate a deep sense of purpose and alignment with God's will, ensuring that their efforts are centered on preaching the message of Christ crucified and resurrected to the entire world.
Comments
comments