Welcome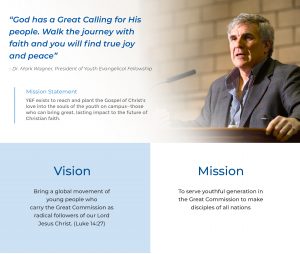 Welcome to the beginning of an amazing journey with God. YEF is dedicated to revealing the Gospel of Jesus Christ in our daily lives, transforming our communities, and bringing the good news to all people. As creative and committed Christians, we work daily to quench the spiritual drought in our cities and restore the hearts of many around the world.
Youth Evangelical Fellowship is a group of proactive, outreaching Christians, whose youth and passion are spent on bringing glory to God's name. We want to see the Great Commission of Jesus fulfilled in each and every major city in the world as he promised in his prayer, "thy kingdom come, thy will be done on earth as it is in heaven." (Matthew 6:10) YEF has been a symbol of revival in urban mission since its establishment, working to redeem college campuses for the greater cause of Jesus Christ.
You are about to dive into the deep Word of God with our members at your local fellowships and university campuses. I sincerely pray that YEF will strengthen you spiritually and that you will be fully equipped in spirit and truth while you walk on this faith journey. We thank you for your continued prayers for YEF as we work to make meaningful changes in the lives of many.
Statement of Faith
Youth Evangelical Fellowship adheres to the Statement of Faith professed by World Evangelical Alliance.
WE BELIEVE:
One God , eternally existent in three persons, Father, Son, and Holy Spirit…
Our Lord Jesus Christ , God manifest in the flesh, His virgin birth, His sinless human life, His divine miracles, His vicarious and atoning death, His bodily resurrection, His ascension, His mediatorial work, and His Personal return in power and glory…
The Salvation of lost and sinful man through the shed blood of the Lord Jesus Christ by faith apart from works, and regeneration by the Holy Spirit…
The Holy Spirit , by whose indwelling the believer is enabled to live a holy life, to witness and work for the Lord Jesus Christ…
The Unity of the Spirit of all true believers, the Church, the Body of Christ…
The Resurrection of both the saved and the lost; they that are saved unto the resurrection of life, they that are lost unto the resurrection of damnation.
History
Youth Evangelical Fellowship is an evangelical mission movement that started from a few college students who were dreaming and praying to transform their campuses with the Gospel. In early 2009, a few students from Columbia University and New York University within the New York Immanuel Church(http://www.immanueli.org/) of Olivet Assembly USA(http://www.olivetassembly.org/) started meeting and ignited passion for evangelizing students in their universities.
Determined to carry the Great Commission of Jesus Christ to the ends of the earth, YEF was officially inaugurated in December 27, 2009, as an international organization that dreams to reach out, not only to those in USA, but many nations and peoples around the globe.
By the Grace of God, YEF's mission has reached out to more than 40 countries by 2015 covering most of the continents such as North America, South America, Europe, Africa, Asia Pacific, South East Asia, and South Asia. Youth Evangelical Fellowship is a Member of World Olivet Assembly (http://www.worldolivet.org/) and is an Associate Member with World Evangelical Alliance.
"It is like a mustard seed, which, when sown upon the soil, though it is smaller than all the seeds that are upon the soil, yet when it is sown, it grows up and becomes larger than all the garden plants and forms large branches; so that the birds of the air can nest under its shade." – Mark 4:31-32
YEF's commission is to raise young generation who love the Cross of Jesus Christ; boldly proclaim His Sacrifice and the Power of His Salvation; and dream together for the Kingdom of God.
YEF firmly believes in international growth and equipping of youth from diverse backgrounds to devote themselves to Jesus Christ and His Great Commission. YEF aims to help young people to passionately embody Kingdom-driven lifestyles. Soli Deo Gloria!
Executive Committee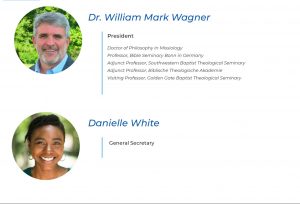 Contact Us
YEF ADMINISTRATION OFFICE : 519 S Park Ave. Sanford, FL 32771