Welcome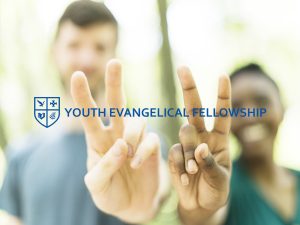 Welcome to the beginning of an amazing journey with God. YEF is dedicated to revealing the Gospel of Jesus Christ in our daily lives, transforming our communities, and bringing the good news to all people. As creative and committed Christians, we work daily to quench the spiritual drought in our cities and restore the hearts of many around the world.
Youth Evangelical Fellowship is a group of proactive, outreaching Christians, whose youth and passion are spent on bringing glory to God's name. We want to see the Great Commission of Jesus fulfilled in each and every major city in the world as he promised in his prayer, "thy kingdom come, thy will be done on earth as it is in heaven." (Matthew 6:10) YEF has been a symbol of revival in urban mission since its establishment, working to redeem college campuses for the greater cause of Jesus Christ.
You are about to dive into the deep Word of God with our members at your local fellowships and university campuses. I sincerely pray that YEF will strengthen you spiritually and that you will be fully equipped in spirit and truth while you walk on this faith journey. We thank you for your continued prayers for YEF as we work to make meaningful changes in the lives of many.
About YEF
YEF'S VISION
YEF is a global movement to inspire young generations to become purpose-driven leaders who seek to follow the passionate life of Jesus Christ and transform the lives of others as well as their own.
YEF currently hosts chapters in 42 countries in every populated continent, including USA, Canada, Mexico, Puerto Rico, Dominican Republic, Cuba, Panama, Haiti, Brazil, Argentina, Bolivia, Colombia, Chile, Peru, Uruguay, Venezuela, Australia, Germany, United Kingdom, Portugal, France, Zambia, Kenya, Ethiopia, Uganda, Ghana, Rwanda, Russia, India, China, South Korea, Japan, Hong Kong, Macao, Mongolia, Malaysia, Cambodia, Indonesia, Laos, Philippines, Thailand, Vietnam.
YEF'S MISSION
YEF serves to: Yield youths unto God and His vision; Equip youths with Biblical education; Fuel youths' passion to embody kingdom-driven lifestyles.
"For we do not preach ourselves, but Jesus Christ as Lord, and ourselves as your servants for Jesus' sake." – 2 Corinthians 4:5

"But in your hearts set apart Christ as Lord. Always be prepared to give an answer to everyone who asks you to give the reason for the hope that you have. But do this with gentleness and respect." – 1 Peter 3:15
Do you desire a rich and ever-developing relationship with Jesus Christ? Do you want to be fully equipped with Biblical answers to life's toughest questions? If so, we invite you to join YEF and our never-ending journey through the Word of God.
In today's pluralistic world, many young people are leaving the church, or sometimes their faith altogether. Increasing ignorance and indifference toward the Scripture contribute to the alienation of youths from the life of faith.
However, there are real and applicable truths in the timeless Truth of the Bible, and there is a real help and comfort in our Creator who looks at His children with love. When sincere hearts gather to seek for God's glory, a true community of His love can emerge.
All the answers to life's toughest questions are available for you – if you step up in the exploration for the real God through His real messages in the Bible. With YEF, you will be able to delve into the deep truths through fun, relatable, and life-transformational Bible studies. Through infinite opportunities to apply the Biblical teachings to real life, you will be able to find God's true calling in your life – the very original will with which He created you. Furthermore, discipleship and leadership programs will prepare your heart in sharing God's mission of salvation, through which you can deeply experience His power of life.
Statement of Faith
Youth Evangelical Fellowship adheres to the Statement of Faith professed by World Evangelical Alliance.
WE BELIEVE:
One God , eternally existent in three persons, Father, Son, and Holy Spirit…
Our Lord Jesus Christ , God manifest in the flesh, His virgin birth, His sinless human life, His divine miracles, His vicarious and atoning death, His bodily resurrection, His ascension, His mediatorial work, and His Personal return in power and glory…
The Salvation of lost and sinful man through the shed blood of the Lord Jesus Christ by faith apart from works, and regeneration by the Holy Spirit…
The Holy Spirit , by whose indwelling the believer is enabled to live a holy life, to witness and work for the Lord Jesus Christ…
The Unity of the Spirit of all true believers, the Church, the Body of Christ…
The Resurrection of both the saved and the lost; they that are saved unto the resurrection of life, they that are lost unto the resurrection of damnation.